This is an archived article and the information in the article may be outdated. Please look at the time stamp on the story to see when it was last updated.
Which antibiotics are best for dogs and cats?
Dog and cat antibiotics are medications, usually prescribed by a veterinarian, that can help treat a bacterial infection. Some can be used as a preventive measure, such as when your pet has an injury or undergoes surgery. They're not meant to treat viruses, however. So, if you believe your pet has an infection, speak with a veterinarian to see whether they recommend antibiotics.
Differences between cat and dog antibiotics
There are similarities between cat and dog antibiotics, which is why you can often find medications geared toward both species. The main difference between the two is the recommended dosage for treating a bacterial infection.
Make sure you choose antibiotics that are labeled as safe for both types of animals or the type you have. Some medications for dogs, for example, are toxic to cats. Speak with a veterinarian for a recommendation or prescription before giving your pet any form of medication.
Main antibiotics for cats and dogs
Many of the same antibiotics can be given to cats and dogs. These include:
Amoxicillin: This is a common medication for bacterial infections in the ear, urinary tract or respiratory system.
Clindamycin or Cleocin: This is used to help with infections of the bone or teeth.
Doxycycline or Vibramycin: In cats, this can treat respiratory infections. It can also help with certain diseases in dogs, such as heartworm.
Gentamicin or Garamycin: This is meant to treat ear, eye, skin and respiratory infections in dogs. For cats, it can help with skin or ear infections.
Metronidazole or Flagyl: This medication can treat bacterial infections in the digestive system. It can also help with intestinal parasites.
A few antibiotics, such as cephalexin, are only meant to treat skin infections in cats. Others, including Clavamox, are for canines only.
Purpose and infection type
Antibiotics for cats and dogs primarily fight bacterial infections. A veterinarian may prescribe one to eliminate parasites, such as worms in your pet. Those meant for preventive care can also help prevent secondary infections that are related to the first.
These medications can help with different infections, including urinary tract, ear, skin, eye, respiratory system, wounds and teeth or bones.
Possible side effects
As with any medication, antibiotics for cats and dogs could come with a few complications or side effects. According to PetMD, these include vomiting, diarrhea, lethargy, weakness and seizures.
Other possible side effects include appetite loss, rashes or frequent itching (for topical medications).
Antibiotics are generally considered safe, but if your pet displays any of the above symptoms, discontinue use and speak with a veterinarian immediately. These medications are often necessary for treating infection, but your veterinarian could suggest an alternative.
Form
Dog and cat antibiotics come in the following forms:
Chewables: For pets that refuse tablets, consider chewable antibiotics instead. These can be mixed into the food dish or administered as a treat. Some are flavored.
Liquids: If your cat or dog eats wet food, mix in a liquid antibiotic during mealtime. Alternatively, use a syringe and administer it directly to your pet. In some cases, a veterinarian can administer the medication directly via a syringe or needle.
Powders: Certain medications come in powder form and can be sprinkled directly into the food or water bowl. Make sure your pet consumes the entire amount.
There are also topical medications, which usually come in creams or ointments. These commonly treat skin infections and help prevent fungal infections.
Dosage
The dosage typically depends on a few factors, including:
Animal type: cat or dog
Breed: Some breeds react differently to certain medications when administered.
Age: Older or younger animals often need specific dosages.
Size and weight: Larger animals and dogs typically require a higher dosage, but not always.
7 best dog and cat antibiotics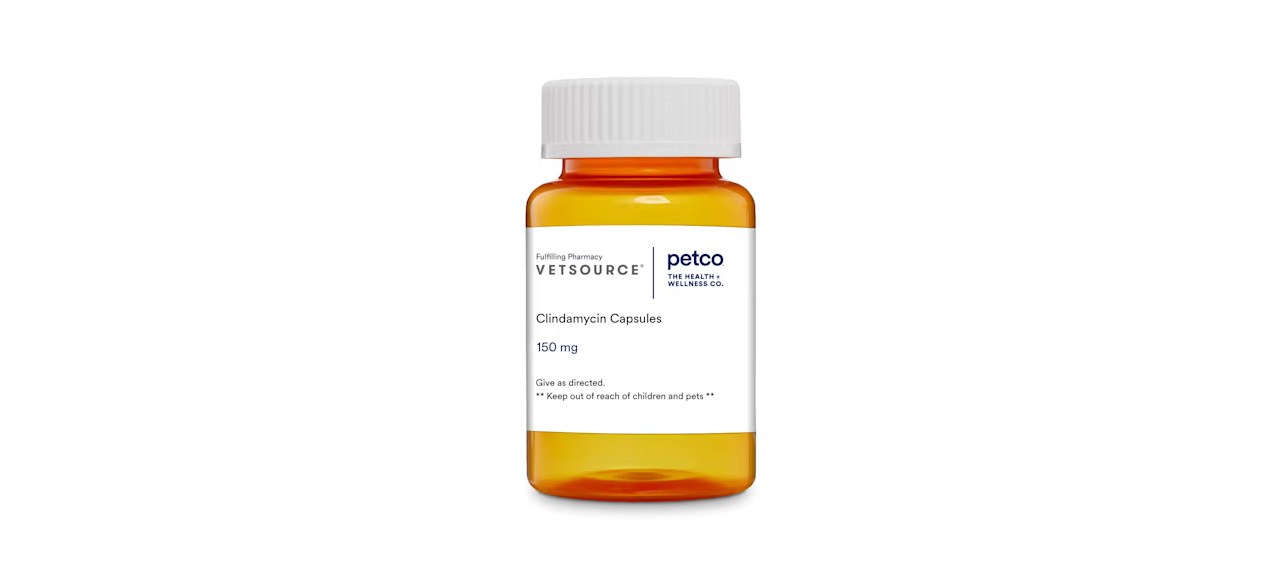 Clindamycin (Generic) for Dogs and Cats
This medication can help treat oral infections, specifically those of the mouth, gums and bones. It can also help with respiratory infections.
Sold by Petco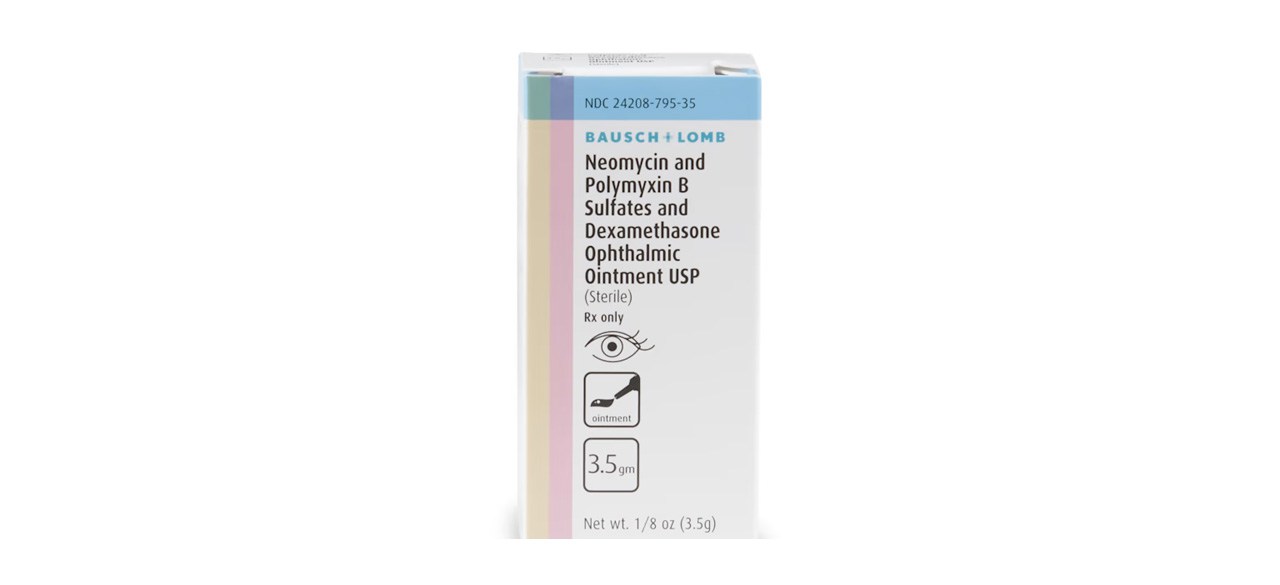 Neo-Poly-Dex (Generic) Ophthalmic Ointment for Dogs and Cats
Meant to treat eye infections, this ointment can reduce swelling and soothe irritations. It's safe and effective for most cats and dogs. It's also easy to administer.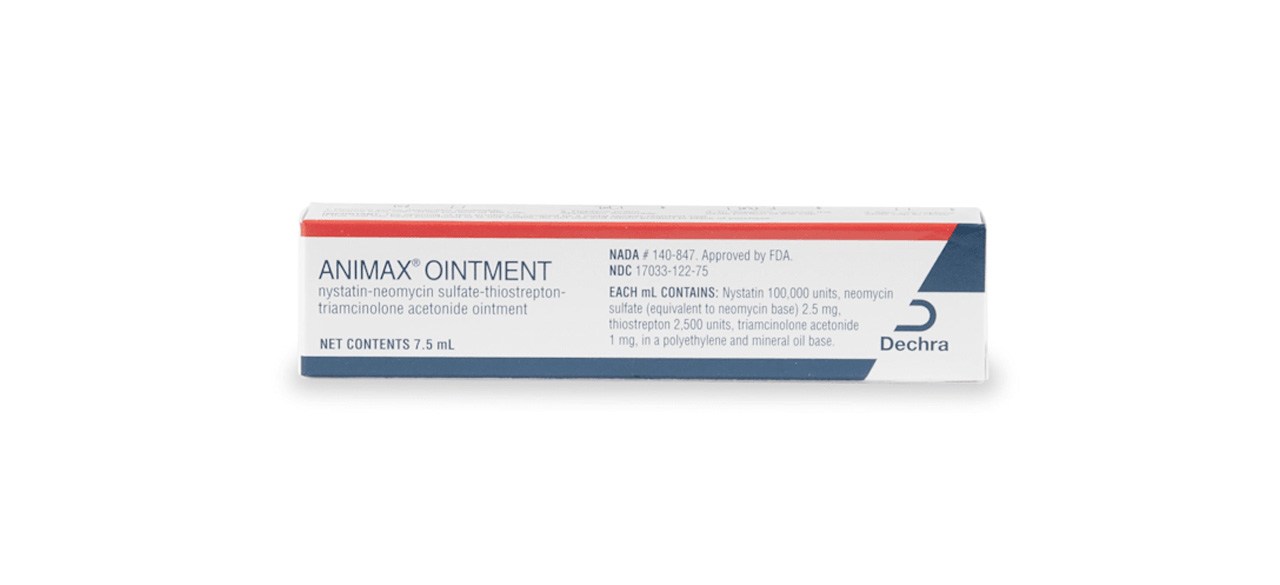 Animax Ointment for Dogs and Cats
For pets with skin or ear bacterial infections, this medicated ointment is effective and fast-acting. It contains steroids that make it more potent, though it could also result in some side effects, such as frequent urination. It's a great short-term solution.
Sold by Petco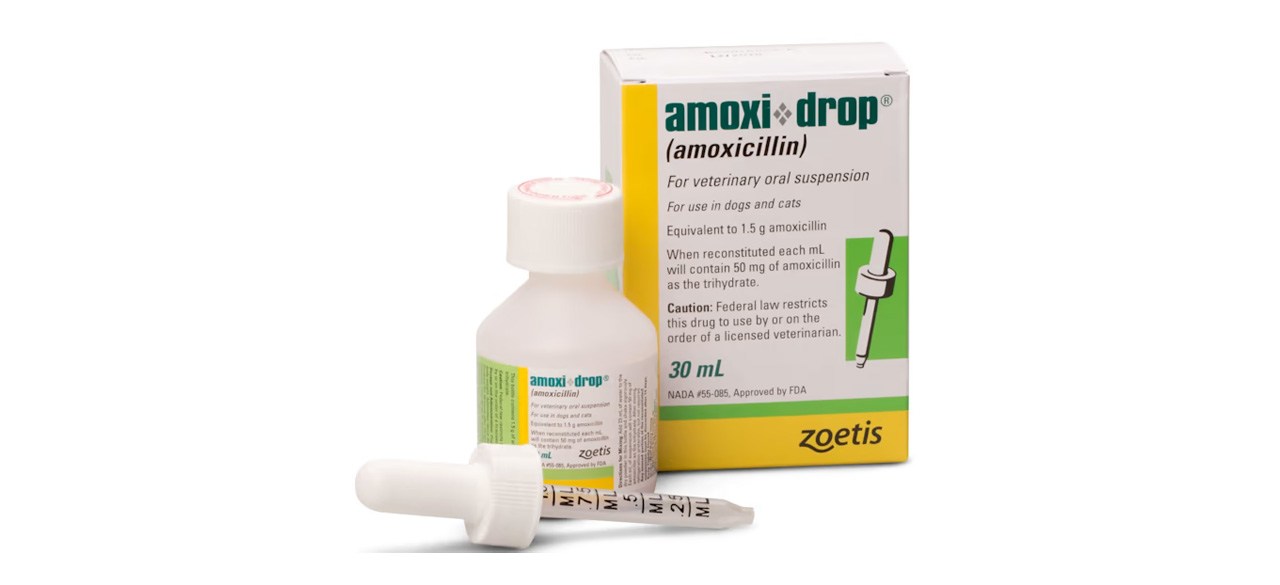 Amoxi-Drop (Amoxicillin) for Dogs and Cats
This antibiotic is versatile and can be used to treat infections of the urinary tract, upper respiratory system and more. It's gentle enough to be used on even sensitive pets. It also comes in liquid and capsule forms.
Sold by Petco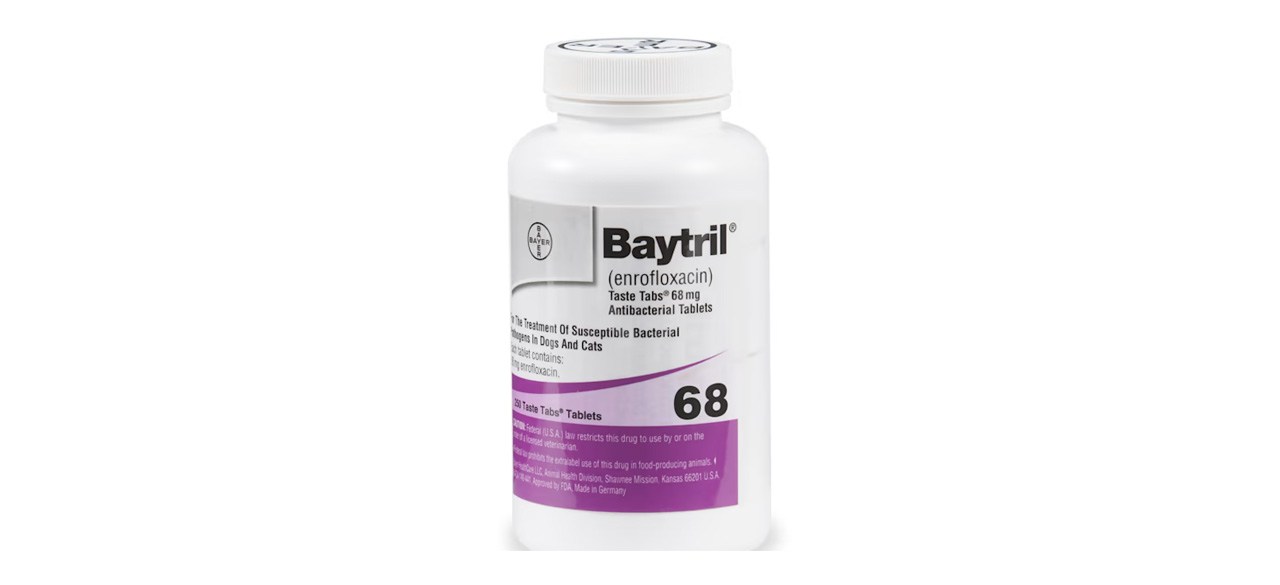 Baytril (Enrofloxacin) Tablets for Dogs and Cats
Another great option for dealing with different infections, including those of the skin, urinary tract and upper respiratory system, this antibiotic is highly effective. It comes in capsule form and can be mixed in with dry or wet food.
Sold by Petco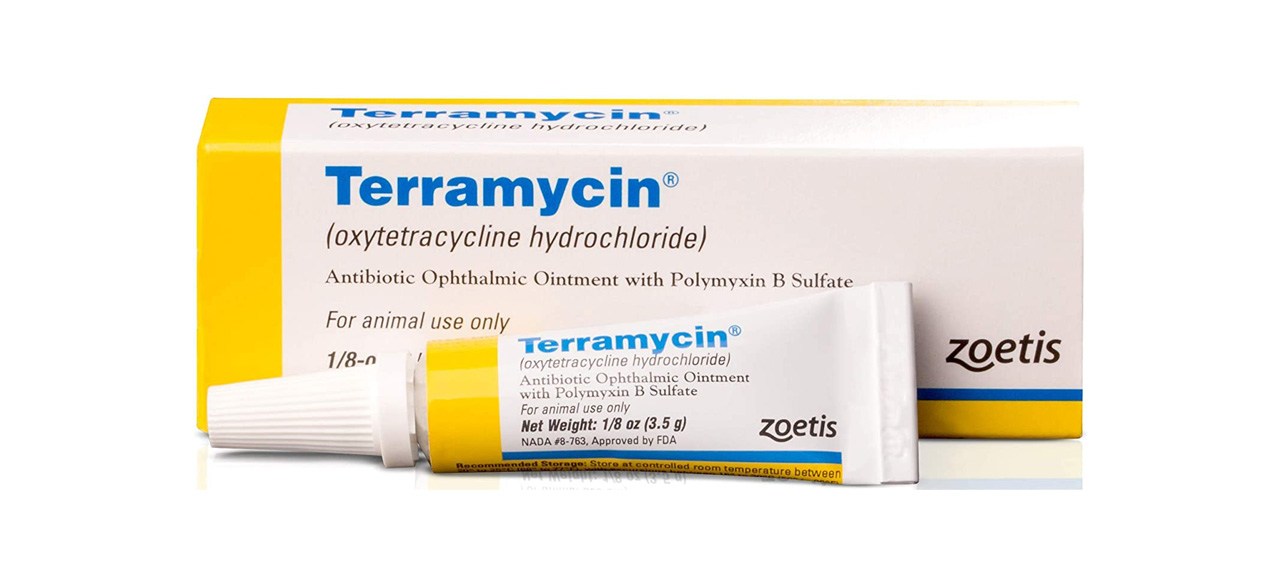 Terramycin Ophthalmic Ointment for Dogs and Cats
Safe for cats, dogs and horses, this prescription ointment comes in a convenient tube and is easy to administer. It can help with eye infections, such as pink eye and ulcers. It can also alleviate eye irritation, swelling and pain.
Sold by Amazon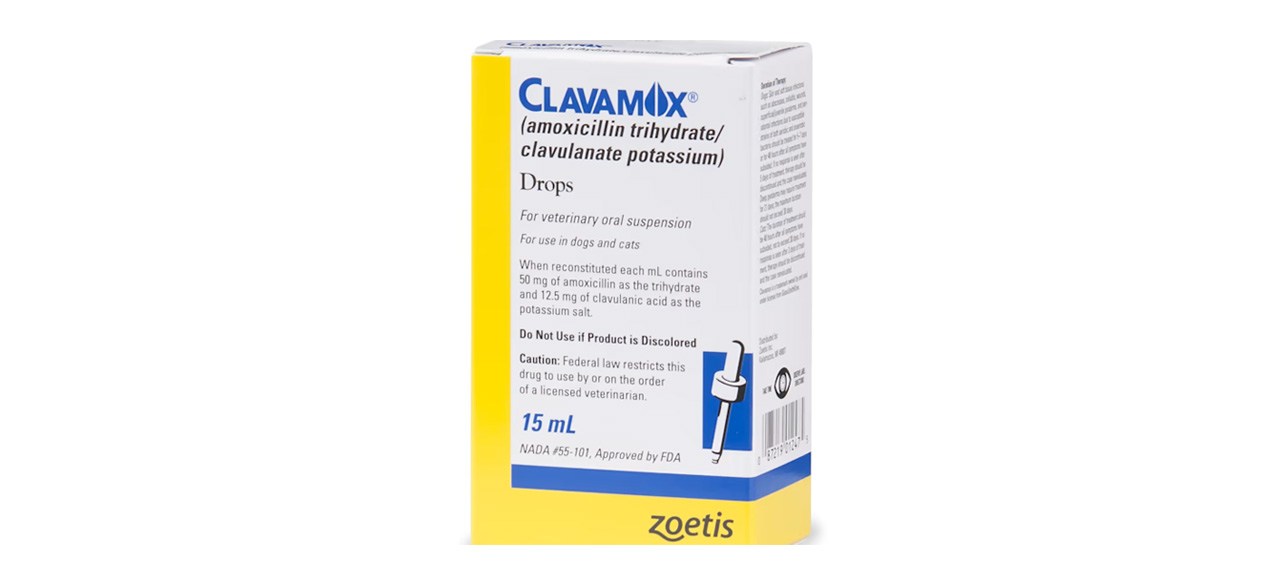 Clavamox (Amoxicillin/Clavulanate Potassium) Drops for Dogs and Cats
These drops are broad-spectrum antibiotics that can treat different infections, including those found in wounds and the urinary tract. They can also help with dental and respiratory infections.
Sold by Petco
Want to shop the best products at the best prices? Check out Daily Deals from BestReviews.
Sign up here to receive the BestReviews weekly newsletter for useful advice on new products and noteworthy deals.
Angela Watson writes for BestReviews. BestReviews has helped millions of consumers simplify their purchasing decisions, saving them time and money.
Copyright 2023 BestReviews, a Nexstar company. All rights reserved.