Lamborghini has closed the order books for the Huracán, nine years after the V-10-powered supercar made its debut.
While announcing its financial results for the first quarter of 2023 this week, Lamborghini said the Huracán was sold out to its scheduled end of production.
The final version of the car was revealed late last year as the off-road-ready Huracán Sterrato. However, Lamborghini may still roll out a few special editions, similar to what happened with the Aventador after its final version was announced.
A Huracán successor with a plug-in hybrid powertrain is planned. It will be launched at the end of 2024, according to recent comments made by Lamborghini CEO Stephan Winkelmann, and rumor has it the car will rely on a turbocharged V-8 for its internal-combustion component.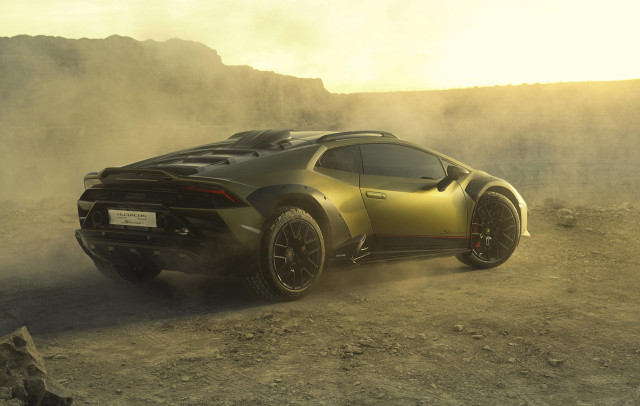 Lamborghini Huracán Sterrato
Lamborghini has confirmed the car will feature the same 8-speed dual-clutch automatic transmission as the Aventador-replacing Revuelto supercar. The rear-mounted transmission is designed to integrate an electric motor to help the engine power the rear wheels, and one or two additional motors will likely power the front wheels of the Huracán successor, just like in the Revuelto.
The Huracán is the bestselling model in Lamborghini's history, with more than 20,000 units sold as of mid-2022. The previous record of 14,022 units was held by the Gallardo, which the Huracán smashed after just five years on the market.
The Huracán will also have the honor of being the last production Lamborghini powered purely by an internal-combustion engine. The Revuelto already features a plug-in hybrid powertrain, and the Urus is slated to go the plug-in hybrid route in the first half of 2024.
Lamborghini has started off 2023 with record results, including delivering 2,623 cars, up 84 cars compared to the same period a year ago. The automaker also said its order books cover almost the entirety of 2024's production.
Related Articles